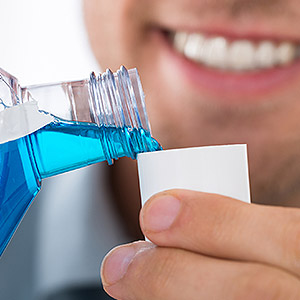 The term periodontal disease refers to bacterial infections that target the gums. These infections typically start as inflammatory responses to dental plaque, a bacterial biofilm collecting on tooth surfaces, especially around the gum line.
Early on, we can often stop the infection and minimize damage by removing accumulations of dental plaque and tartar (hardened plaque), which tend to fuel the disease. This process, known as debridement, effectively "starves" the infection and allows the gums and other infected tissues to heal.
But if gum disease is anything, it's stubborn: An infection can continue to advance rapidly. As it does, it weakens gum attachment and causes bone loss, both of which could eventually cause tooth loss.
When it reaches this state, advanced gum disease can turn into a long-term siege of keeping the infection at bay and trying to limit bone loss. To stay ahead of it, we may turn to additional treatments besides debridement, especially for difficult-to-treat areas around the roots.
Mouthrinses. Dentists often prescribe antimicrobial agents to patients with advanced gum disease to help further control bacterial plaque buildup. The most common of these is chlorhexidine, typically in a 0.12% solution mouthrinse. Chlorhexidine is quite effective in controlling bacteria, but prolonged use can lead to tooth staining.
Topical antibiotics. Dentists may also apply antibiotic treatments, usually tetracycline, directly to affected areas. Topical applications like these are often more effective in penetrating hard-to-reach areas than manual cleaning tools. Dentists must be selective, though, in using this tool, because long-term application could disrupt "good" oral bacteria along with the bad.
Other medications. In addition to antibiotics, dentists may also use other drug treatments like chlorhexidine chips or doxycycline gel that continues to deliver effects over a long period. These "sustained release" medications continue to suppress bacteria, and are often used in conjunction with mechanical cleaning to reduce inflammation.
These additional tools can improve the overall treatment outcomes for advanced gum disease. But they must be used prudently and only in those cases where the benefits of better gum health outweigh the risks.
If you would like more information on preventing and treating gum disease, please contact us or schedule an appointment for a consultation. You can also learn more about this topic by reading the Dear Doctor magazine article "Treating Difficult Areas of Periodontal Disease."