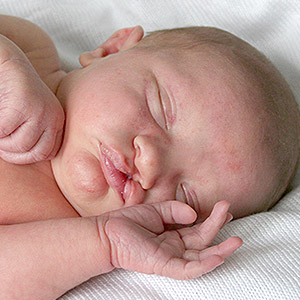 According to the CDC, three out of one hundred infants born each year in the U.S. have a birth defect. A fair percentage of these abnormalities involve the mouth, teeth or gums.
Fortunately, though, we often have a solution for even the most serious of these oral abnormalities. In recognition of National Birth Defects Awareness Month in January, here are 5 common birth or genetic defects that affect oral health and what we can do about them.
Orofacial clefts. This birth defect occurs when the tissues of the upper lip, face or palate don't knit together during pregnancy, leaving a noticeable gap or "cleft." Clefts not only disrupt a baby's appearance, but they can also interfere with their ability to nurse or even breathe. Modern surgical procedures, however, are often effective in restoring normal appearance and function.
Missing teeth. One in five people have at least one missing tooth that failed to develop, skewing their smile and possibly creating a problem bite. But there are ways to compensate for these missing teeth, depending on their type and normal location. The most common way is to move any teeth that have invaded the missing tooth space back to their proper position, and then installing an implant to replace the missing tooth.
Weak enamel. Enamel hypoplasia, a genetic disorder prevalent among children with Down, Treacher-Collins or Turner syndromes, occurs when adequate tooth enamel fails to develop. As a result, children with this condition have a heightened risk for tooth decay. Brushing and flossing daily, as well as applied sealants and fluoride treatments to protect and strengthen the weakened enamel, help minimize the threat of decay.
Jaw abnormalities. A child's genetics can also influence their jaw development, which in turn may eventually affect their bite. A narrower than normal upper jaw, for example, may not allow enough space for later teeth coming in, causing them to erupt out of position. We may be able to address this situation if caught early enough with a device known as a palatal expander that widens the jaw as it grows.
Gum thickness. We inherit gum tissue thickness from our parents. If your gums are on the thinner side, you're more likely to encounter problems like sensitivity to cold (as what might occur while eating ice cream) or a higher risk of gum disease. It's important, then, that anyone with thin gum tissues keep an eye on their gum health, and see a dentist regularly for checkups.
The best outcome for many of these genetic traits and defects is to diagnose and initiate treatment as early as possible. Starting regular dental care by age one is the best way to stay ahead of a birth-related dental issue.
If you would like more information about birth defects and oral health, please contact us or schedule a consultation. To learn more, read the Dear Doctor magazine article "Cleft Lip & Cleft Palate."