Posts for: November, 2021
By Lynda V. Butler, DDS
November 20, 2021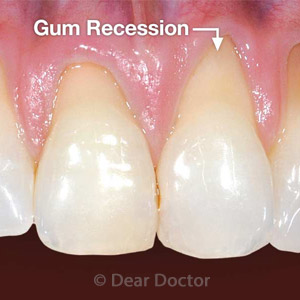 We're all familiar with optical illusions, which our brain visually perceives in a way different from the actual reality. A kind of optical illusion may also happen in your mouth: Your teeth appear to have gotten "longer." They haven't actually grown—instead, the gums have shrunk back (or receded) to reveal more of the tooth.
Unfortunately, this isn't an amusing visual trick! Gum recession isn't healthy, and it could endanger your teeth.
Receding gums occur for a variety of reasons. Some people are simply more genetically disposed to recession because they've inherited thinner gum tissues from their parents. You can also damage your gums through over-aggressive brushing.
But the most common cause for gum recession is periodontal (gum) disease, caused by bacteria inhabiting a thin biofilm on tooth surfaces called dental plaque. The more plaque present on your teeth, the more plentiful the bacteria, which can sharply increase your risk of infection. Unless treated, gum disease can eventually weaken the gums' attachment to teeth that can then cause the gums to recede.
Normally, the gums cover and protect the tooth roots from bacteria and other hazards, similar to the way enamel protects the tooth's visible crown. But teeth lose this protection when the gums recede, exposing them to disease-causing bacteria and other oral hazards.
Fortunately, there is hope for receded gums. The primary way is to first treat the gum disease that caused it: If the recession has been mild, this may help the tissues regain their former coverage. More severe recession, however, may require highly technical grafting surgery with donor tissue to promote new tissue growth at the site.
But the best approach is to avoid recession in the first place by preventing gum disease. This requires removing bacterial plaque daily through brushing and flossing, as well as regular dental visits for more thorough cleanings. Dental visits are also important if you have a higher risk profile for gum recession like thinner gum tissues.
Gum recession isn't just an inconvenience. It can put your oral health at long-term risk. But you may be able to avoid its occurrence by practicing daily oral hygiene and seeing your dentist regularly.
If you would like more information on gum recession, please contact us or schedule an appointment for a consultation. You can also learn more about this topic by reading the Dear Doctor magazine article "Gum Recession."
By Lynda V. Butler, DDS
November 10, 2021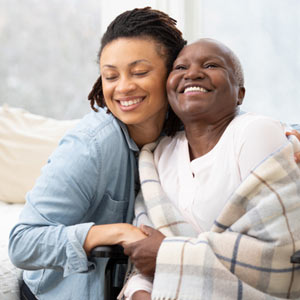 More than 50 million Americans care for an adult neighbor, friend or family member who can't care for themselves. A major part of that care is looking out for their health—including their teeth and gums.
Being a caregiver to someone is a labor of love—but it can be overwhelming. And with oral health especially, it's easy to miss signs of an emerging issue in their mouths that could impact the quality of their lives.
But you can be proactive about your loved one's oral health. In recognition of Family Caregivers Month in November, here are 4 guidelines that can help you ensure their teeth and gums are as healthy as possible.
Make oral hygiene easier for them. Brushing and flossing are basic to a dental disease prevention strategy. But an adult who needs care might have trouble performing these tasks: They may lack the cognitive ability or physical dexterity required. For the latter, larger handled-tooth brushes, floss threaders or water flossers can provide them better maneuverability. With cognitive decline, though, you may have to personally assist them with their hygiene tasks.
Watch for dry mouth. Also known as xerostomia, chronic dry mouth is caused by a lack of adequate saliva needed to fight disease-causing bacteria and to neutralize acid that can erode tooth enamel. For a variety of reasons, older adults are more prone to chronic dry mouth than other age groups. When this occurs, speak with their doctor about their medications (some can cause xerostomia). And, encourage your loved one to drink more water or use products that boost saliva production.
Accompany them to the dentist. Just as you would with other aspects of their health, become an active participant in their dental care. Forging a partnership with their dentist can provide you the information and guidance you need to better manage their daily home care. You can also bring up issues you've noticed with their oral health that can help guide their dentist's treatment.
Monitor their existing dental work. Your loved one may have full or partial dentures, or dental work like crowns or bridges. These existing restorations extend their dental function and protect their oral health from further disease. It's important, then, to have existing dental work checked on a regular basis to ensure its in good shape and functioning properly.
As the old saying goes, "Healthy mouth, healthy body." This is especially true for adults who need ongoing care. Keeping their teeth and gums are as healthy as possible will help them enjoy better health overall.
If you would like more information about oral care for an older adult, please contact us or schedule a consultation. To learn more, read the Dear Doctor magazine article "Aging & Dental Health."